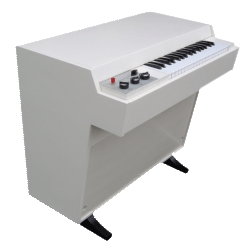 We've got some wierd and wonderful plugins for you to play with this week, some of which are modelled on vintage gear, others that come straight outta leftfield with a sound all of their own.
First we're going to look at a couple of VSTi that emulate the classic Mellotron - which famously featured on 'Strawberry Fields' amongst others.
Artifake Labs
have two versions of 'Tron emulation. Their Redtron 400 features three violins, and eight-voice choir, flute, brass, string section and cello, each with loop on/off modes.
The Redtron MkV emulates one of the rarest Mellotron models, giving you access to what is effectively two Mellotrons working in tandem.
Both plugins are completely free and available from
here
. The developers also have a decent emulation of the Hohner Pianet N electric piano on the same page. Definitely worth checking out.
Elektrostudio
also have a Mellotron plugin as part of their 'Oryg 10 Analog Pack'. It sounds pretty decent and allows you to blend the different voices into one another, which is a nice touch. The pack also contains the Rhythmus plugin, which emulates classic rhythm boxes, with samba, mambo, tango, waltz and rumba type patterns - great for getting some classic sounds out of, even if the full patterns are a bit naff.
You can download the pack, which contains 10 plugins, from
here
.
Some organ emulations are up next, starting with an excellent Hammond copy from
Iliadis
.
It's a pretty detailed clone featuring
"Clean Sine Drawbars for 2 Manuals and Bass Pedals, 2 Percussion Oscs with the 9 "Standard" Harmonics, a Key Click Imitation, Vibrato/Chorus and Overdrive."
You can download it for free
here
, along with a superb rotary speaker emulation to complete the vintage effect.
For a slightly different take on the organ sound - veering into Doors territory, how about a Combo Organ emulation?
Combo V from
Martinic
is a fully-modelled (no samples) clone, with 32 presets and lots of tweakable controls. You can download it
here
.
Finally a versatile emulation, capable of everything from church organ tones to Farfisa sounds, how about the B8 from
Autodafe
? This is another freebie, available
here
.
Finally, we've got a couple of random percussion units for you to try: Shekrs from
spacedad
accurately captures the sounds of yoghurt pot, loo-roll and paper cup shakers, while Beatvox from
Knobster
is a beatbox/human percussion instrument.
Both are a bit madcap, but well worth checking out.